---
Power Generation Data Acquisition Case Studies
By: Kurt Nichol
APEX Turbine sells and supports dynamic data acquisition systems (DDAS) to a number of OEM's in the gas turbine power generation market around the world. We provide these important customers with fully integrated systems based on commercial-off-the-shelf (COTS) digitizers, signal conditioning, computing platforms and of course our DS dynamic data acquisition software. Portability, reliability and ruggedness are important because many of these systems are taken to remote test sites where conditions are not always so pristine.
Many of these customers are selecting the National Instruments PXIe platform because it is rugged, compact and can be configured with an embedded PC controller producing a complete, portable dynamic data acquisition system. As a National Instruments Alliance Partner, APEX Turbine can function as the prime contractor and systems integrator to our customers while giving them all the support and backing of National Instruments. We work together with NI to ensure that the customer can accomplish their unique goals with what is substantially a COTS solution.
---
In order to provide a turn-key solution to our customers, APEX needs to integrate the signal conditioning, digitizer, computing platform, storage device, software and more into one easy-to-use product. The overall complexity of the integration depends on how much of it is available in a single COTS hardware platform. This is one reason many of our customers are moving toward the PXIe platform as there are many options for digitizer cards that include signal conditioning. Plus, the card/chassis configuration allows customers to create relatively large, or small systems depending on the current need of any test. The 8-slot, NI PXIe-1082 chassis is large enough to accommodate an array of digitizer cards, an embedded controller and even additional storage devices or timing cards. For example one of our customers in central Florida uses the 1082 chassis with four NI PXIe-4497 digitizers, the PXIe-8135 embedded controller (aka slot-0 PC) and the NI PXIe-8260 3TB HDD for added recording capacity. The 8135 controller runs our DS software and does all the set up and data recording control. This configuration provides sixty-four channels of dynamic data acquisition with online monitoring in a form-factor that is smaller than most suitcases and is easily transported to a job site anywhere in the world.
---
Another advantage of this system is that it can be expanded by networking a number of these units together to build even larger systems that can all be sample-synchronized (common clocked). This was the approach taken by another of our customers where the embedded controller was configured to run as a data forwarder using the NI Linux RT operating system and an APEX data forwarding application. This allowed APEX to provide a central location for data storage and control using an industrial-grade server. This customer has 384 dynamic channels all pumping data to a centralized storage and online monitoring network.
---
---

Portable NI PXIe-1082 Data Acquisition System Powered by APEX DS Data Acquisition Software
---
---
The example shown above is a pretty straight-forward dynamic data acquisition system solution perfectly suited for acquisition of voltage signals or accelerometer signals. But many times, customers need to make measurements from a variety of sensor types. Given the modular nature of the PXI architecture, one solution is to simply add other card types, like the NI PXIe-4353. We generated a system for an Asian university customer that included one of these 4353 cards so they could measure temperature data in the same chassis with dynamic channels. Other customers need bridge completion so might be interested in something like the PXIe-4431.
Another of our customers – another major world-wide Gas Turbine manufacturer – chose to outfit test cells using the 18-slot, PXIe-1085 chassis with PXIe-4464 cards. Here we utilized a server linked to the chassis over the NI MXI interface to host our APEX DS software, and for data storage. Most of the measurements were dynamic strain so additional signal conditioning from Precision Filters was provided.
This was an industrial application where all data was being transmitted over a very large network for online monitoring by many engineers. But this kind of application needed to integrate with existing infrastructure where lower sample rate signals for performance and operability were being monitored and recorded. This is where the DS application programming interface, or API, comes in. We integrated this PXIe-4464-based dynamic data acquisition system with existing facility acquisition and control using the API included with our DS product which enables this customer to control all data acquisition from the main facility control location. Not only that, but summary data from the dynamic data acquisition system was available for monitoring in the control room and data from the lower sample rate facility system was available for online monitoring and analysis at the APEX- DR online monitoring stations.
These are a couple of our success stories from the power generation industry showing what is possible when we work together with our customers and our partners at National Instruments and Precision Filters. Using our DS software platform and our knowledge of the turbomachinery business, we deploy some really amazing systems that are helping our customers make products that make your life better. Contact us today to learn how we might benefit you using the NI based systems mentioned above, or other COTS platforms from our other partners at VTI/Ametek, Concurrent Real-Time,s or others. Check out our complete list of the hardware we support below.
---
Author: Kurt Nichol, President/CEO of Apex Turbine Testing Technologies
---
Dynamic Data Acquisition Systems
Click image to learn more
---
Ultra-Portable Systems
Portable Systems
Industrial Systems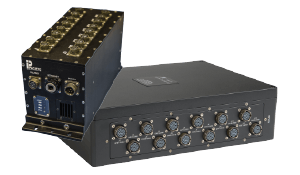 Ruggedized Systems